Animals and Batman and polka dot dresses, cake with my cuppas and handwritten letters,
Stand up comedians and love-heart shaped things, these are a few of my favourite things.
Hello! *waves*
My name's Becky, which you probably already knew, and I'm an alternative wedding photographer from Liverpool currently living in a small town in Derbyshire called Belper with two little bunnies, Daisy and Buttercup.  I've always been creative and originally intended on pursuing a career as an artist/illustrator, but the opportunity came up to photograph a friend's wedding and I've never looked back. I do still do plenty of doodling and take odd illustration commission here and there too though. (If you're interested in my illustration work click here for a little nosey!)
I've always loved to take photos ever since I got my first polaroid camera in the 90s, but having had my heart set on another career path, but also not *really* knowing where I fit, I didn't really think about the possibility of being a professional photographer. But now I'm here, it's awesome!
I hadn't realised how creative photography can be, how much heart can go into it, just with any drawing or painting, a photograph can encompass so much more than what initially meets the eye, and that's what I love. I've travelled up and down the country shooting wonderfully unique weddings, though I have also worked with models, burlesque performers, comedians, and musicians providing them with promotional and live shots.
My Style
I am not a formal photographer, I won't boss you about or dictate how things need to go, and I specialise in shooting weddings for couples that want to do things that little bit differently.  I'm not a photographer that would choose to take endless posed shots, I prefer to capture the natural moments of your day as they happen and tell it as a story from start to finish. I see the beauty in and enjoy capturing the little things, moments in time that need to be saved, emotions shown on faces and smiles shared. It's looking back through shots such as these that really put you back in that time and place to me and convey personalities, not the images created when you're made aware of the photographers presence.  I'm a naturally introverted person so a documentary style of photography is right up my street.  I want my couples to feel like I mostly blend in just as any other guest on their wedding day.  As a result my style of photography is informal, unobtrusive, fun, romantic, natural, and creative, and with a limited amount of set shots/posed group images.
ABOUT YOU
I love working with my awesome couples and I hope that comes across in my work and passion for my business. I want to capture them just as they are with their natural spirit and emotion showing through. You're wonderful, why wouldn't you want to have your photographer capture you (to quote Mark Darcy) 'just as you are' quirks and all? I enjoy capturing the little things that may be forgotten but are still a part of the day and can take you back to that place.  My couples tend to be creative, open minded, fun loving, quirky and colourful people that are generally planning a non-traditional wedding day and are looking for a photographer to fit that feel too.
Long after your wedding day has passed, I want you to be able to look back through your photographs and be put right back in that place, getting those pre-ceremony flutters,  the amazing smell of the cake, that feeling when you first made eye contact with your future husband/bride, and even seeing the moments caught that you may not have even known were going on on the day, they'll be there too.
I've Been Featured
Blogs
Love My Dress
Rock n Roll Bride
Boho Weddings
Save the Date
Marry Me Ink
So You're Getting Married
The Wedding Community
One Fab Day
Whimsical Wonderland Weddings
Un-Wedding
Way Out Wedding
Publications
Vintage Life Magazine (musician feature)
Your East Midlands Wedding Magazine – several issues (cover images and editorials)

Perfect Wedding Magazine
Inretrospect Magazine (fashion feature)

Becky Facts
– I'm a massive animal lover and have had all sorts as pets since I was a kid…dogs, cats, a mouse, a rat, a gerbil, guinea pigs, rabbits, a budgie, frogs, fish… (if you're a fellow animal lover we'll get on! If you happen to be pro-bloodsports etc we may not match so well!
– I love to dance, especially to a bit of 70s or 80s awesomeness like Don't Stop Believin' or Baby Jane. I've previously taken classes in salsa, bachata, lindy hop, belly dance, and danced in a burlesque troupe! (Not that I'm particularly good in any of them but I enjoy it!)
– I love the style of the 1940s and 1950s and you'll rarely see me without my red lipstick.
– I never liked Barbie, I was more of a Batman and Teenage Mutant Ninja Turtles kinda girl.
– Despite the multi-coloured hair I'm very much an introvert.
Some stuff I'm fond of/more things that make me 'me'…
My camera / drawing / music / sitting down with some tea and biscuits/ cake (blackforest gateau or chocolate fudge cake please!) / animals / music / old postcards and vintage photographs / cabaret shows / going to see stand-up comedy /Kermit the frog / red lipstick / Batman / polka dot dresses / blossom / exploring Derbyshire with the mister / cute little cottages with flowers climbing up the walls  / the colour duck-egg / books by Danny Wallace / fish and chips / handwritten letters / Hugh Jackman / Michael Fassbender / heart shaped things / travelling / record hunting in local charity shops
TV – Friends, Red Dwarf, The Mighty Boosh, First Dates, Flight of the Conchords, Dexter, American Horror Story, Whose Line is it Anyway?, Louis Theroux, Sex and the City, Ru Paul's Drag Race, Don't Trust the B* in Apt 23
Films – Bridget Jones's Diary, Some Like it Hot, Ocean's Eleven, When Harry Met Sally, You've Got Mail, Edward Scissorhands, Back to the Future
So that's a bit about me, if you think we'd match well for your wedding, fab! Now it's your turn, pop on over to the Contact page and tell me about you!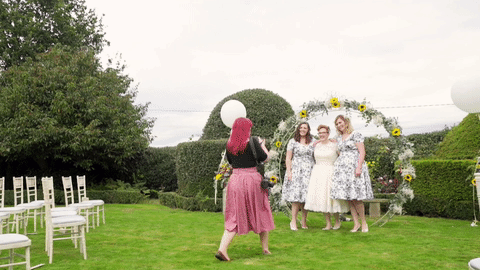 (Portraits of me and my bunny on this page were taken by Camera Hannah!)